Thundershirts are great for


*

Fear of Thunder / Fireworks * Seperation Anxiety * Travel Anxiety * Crate Training * Problem Barking * Hyperactivity * Leash Pulling and More



Thundershirt uses gentle, constant pressure to calm your dog, effectively aiding anxiety, fearfulness, barking and more
With its patent-pending design, Thundershirt i™s gentle, constant pressure has a dramatic calming effect for most dogs if they are anxious, fearful or over-excited. Based on surveys completed by over two thousand customers, over 80% of dogs show significant improvement in symptoms when using Thundershirt. Thundershirt is already helping tens of thousands of dogs around the world, and is recommended by thousands of veterinarians and dog trainers.
As for WHY Thundershirts gentle pressure works to calm a dog, experts such as Dr. Temple Grandin believe that pressure has a calming effect on the nervous system. Using pressure to relieve anxiety has been a common practice for years. For example:
Touch dog trainers use pressure to address a wide variety of anxieties.
Veterinarians use pressure to relax cattle when they are administering vaccinations.
People with autism use pressure to relieve their persistent anxiety.
Children with certain behavioral problems use pressure shirts and weighted vests to relax and focus.
Parents use swaddling to calm an inconsolable newborn infant.
Until now, there just hasn™t been a well-designed, inexpensive pressure wrap commonly used for dog anxiety. Thundershirt is changing that! Thousands of veterinarians and dog trainers now recommend Thundershirts for their anxiety cases.
How To Use Thundershirt
---
Thundershirt is an excellent treatment for most types of dog anxiety and fear issues. For many anxieties, we recommend just putting on a Thundershirt and observing the results (No training!). You very well may see significant improvement for noise, crate, travel, barking and others with absolutely no training. For more complicated anxiety cases, we recommend using Thundershirt as part of a behavior modification program.
One thing is for certain, for a very large percentage of dogs, Thundershirt™s gentle, constant pressure has a terrific calming effect. This has obvious benefits for most types of anxiety. But Thundershirt is also a very useful tool for managing excitability or hyperactivity with strangers, on the leash, or in a training environment. Thundershirt™s calming effect helps a dog to focus (or refocus) her energies in a more constructive direction, allowing training to be more effective.
Step 1

Place the Thundershirt on your dog back and wrap the Short Flap under the torso.

Step 2

Wrap the Long Flap under the torso and secure with fasteners onto the short flap. Make a comfortable, but snug, fit. You should be able to easily slide your fingers between the Thundershirt and your dog™s torso.

Step 3

Wrap the Top Flap down onto the Long Flap and secure with fasteners. Adjust to improve the snug fit and keep Thundershirt securely in place.

Step 4

Wrap the Neck Straps around the front of the dog and secure with fasteners. You should be able to easily slide your fingers under the Neck Straps and should not feel restricting around your dog's neck.
These come in Grey Please be sure to let us know which size you are after when you place your order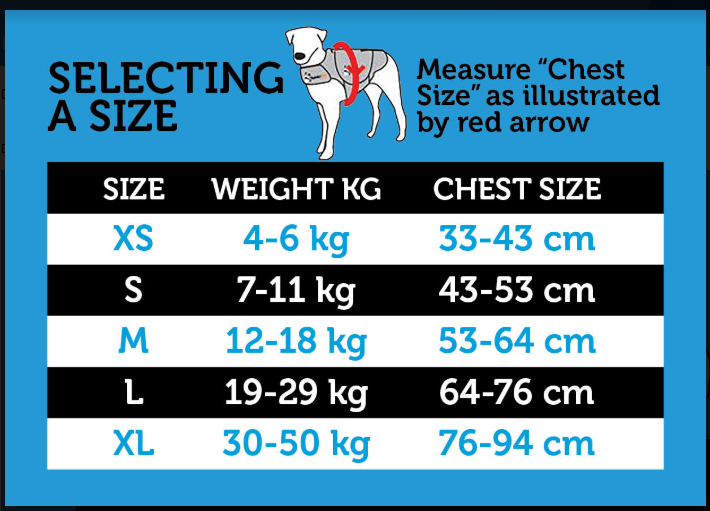 (THUNDERS)
| | |
| --- | --- |
| SKU | THUNDERS |
| Brand | Thunder Shirt |
| Shipping Weight | 0.6000kg |
| Unit Of Measure | ea |
Very impressed

By:

Pam Inwood

on 21 February 2019

We had been experiencing thunderstorms frequently which sent one of my dogs into extreme anxiety to the point I would sleep with him trying to keep him calm. Before buying, I reviewed the product. I have to say I am impressed. He is much calmer now when storms happen and is a much happier dog. Still has a little whimper when thunder is loud but certainly much better. Haven't tried it on fireworks yet but hoping it has the same effect.


(5)
Maggi Mai.

By:

Elaine

on 28 February 2018

So beautiful! So I hate Thunder? But it seems her Thunder Jacket has come to her aid?? She is very happy to put it on and no longer takes off giving Daniel Recardo no chance to get under the bed first?.It has calmed her down and for that we are grateful and extremely happy to recommend this coat! Will always have one in our house.


(5)
Calms almost instantly

By:

Bronwyn

on 29 November 2013

My little Maltese loves this, she still stresses a little bit but not as bad as before, and really only when the thunder is right overhead.


(5)
---
We Also Recommend
---
Others Also Bought
---
More From This Category