Top Tips for Spring Time with your Pets!
Date Posted:19 October 2020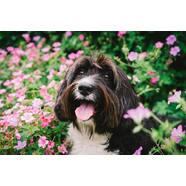 Hi There!,
Spring has sprung here in Australia! Feeling the weather warm up and the flowers blooming is wonderful however there are a few things you will need to know in order to keep your pet safe throughout this period!
The Vet Shed has prepared some handy information to keep your furry friend as comfortable as possible.
1. Be careful of harmful flowers and plants
Flowers and plants can be lovely around the house and on walks however they can pose threats to our pets!
Take a look at some of the plants and flowers that you will need to look out for!
2. Parasites are all over!
Fleas, Ticks and Heartworm are always around however they are more prevelant during the warmer months - make sure your pets are protected with a preventative!
If you have noticed your pet shedding it's winter coat it may be time to start grooming them to ensure they are comfortable, cool and to prevent hairballs. Not to mention - there will be less mess!
4. Get out and about with your pet!
With the weather heating up it is the perfect oppurtinity to get out and about with your pet! Whether you go to the beach, the park, or in forests or walking trails - it is important to have the right gear!
| | | |
| --- | --- | --- |
| Harnesses, Collars & Leads | | |
CONTACT US
Website: www.vetshed.com.au
Phone: 1300 735 995
Address: Unit 12 / 20 Jijaws Street, Sumner Park, QLD 4074
Free Delivery on orders over $150 and under 1kg!
No longer want to receive these emails? {% unsubscribe %}.
{{ organization.name }} {{ organization.full_address }}