Nexgard - Flea and tick control how it works and its advantages
Author: Tania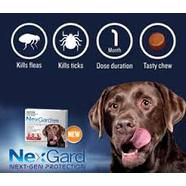 If you have not considered Nexgard for your dog before then read on and find out the benefits of this product.
Nexgard is a new oral treatment that controls fleas and ticks including paralysis ticks for a full month. It is a tasty beef chew that dogs love. So easy and simple and effective.
So how do they do it? Nexgard is manufactured by Merial the same company that make Frontline flea treatment so you know the company can be trusted.
Nexgard contains a new powerful active ingrediant Afoxolaner. Afoxolaner kills fleas and ticks by selectively binding to GABA-gated and glutamate-gated chloride channels in insect and acarine nerve cell membranes. What this means is it attacks the central nervous system of the flea and tick sending them into hyperexcitation which results in uncontrolled activity and death. The nervous systems is different in mammals which has enabled this incredible science to just attack the fleas and ticks and be safe for dogs.
This product has undergone extensive testing for efficacy and for safety. Veterinary clinical trials conducted througth the trials and testing showed no indication of adverse side effects The testing also showed a lack of accumulation after multiple dosing. With the evidence of observed saftey and the sustained effectiveness it was concluded that afoxolaner is a convenient and safe ectoparasiticide to be used for dogs.
The benefits of Nexgard
I chew once a month
The chew is soft and beef flavoured so dogs like it - created with soy protein and a braised beef flavour
It kills Fleas fast - it starts to kill within 4 hours and has killed all fleas that land on the dog within 8 hours
It kills Ticks - Indluding paralysis ticks
You can give it with or without a meal - you can hide the chew in food if that is an easier way to dose your dog if he is really fussy.
Nexgard can be safely given to all breeds of dogs
Puppies can have it from 8 weeks of age ( however please note they do have to also be over 2kg)
Kills fleas before they can lay eggs so it breaks the cycle
With Nexgard your dog can swim and be bathed as it can not wash off
No messy liquids
No need to seperate the dog after treatment from other pets or members of the family
Can be given to dogs of all ages
Different weight range products for dogs of all shapes and sizes
Ticks cant hide - ticks are often found inside the gums of dogs, around the eye, inside the ears, even inside the anus. Topcial products will not always treat these ticks
Safe to use with other medications including antibiotics
Made by Merial who give excellent technical support and stand behind their products, they even have a free call number to help anyone with any questions or queries. 1800 808 691
Precautions for Nexgard
Nexgard has not been evaluated yet for use in breeding males and females
Do not use in dogs with a history of seizures. It is always important to consult your vet before using any medications on these dogs
Keep away from children, this product is not for human consumption any concerns regarding this the poisons information centre would need to be called on 13 11 26
As with handling any medication it is important to wash your hands after use
Studies have shown that 82% of pet owners are not treating their dogs correctly for paralysis ticks. 59% of these people dont even realise that they are in a tick area. Paralysis ticks are generally found right down the east coast of Australia. If you are not sure a good way to check is to give your local vet clinic a quick call to see how many tick cases they treat. This phone call surpises most pet owners.
Ticks are small and daily checking is just not enough.Ticks hide!
For dogs that are larger than 50kg then they need to use a combination of pack. For example Keef the Great Dane that works at The Vet Shed is 70kg and he has 1 nexgard extra large dog and 1 nexgard large dog every month. Until these companies start making one that does over 50kg this is just what we need to do with the larger breeds. So double check your dogs weight particularly if they are of the Mastiff breeds, Rottweilers, St bernards, great danes etc.
As always if you require any advice or assistance we have our qualified customer service team here to help 1300 735 995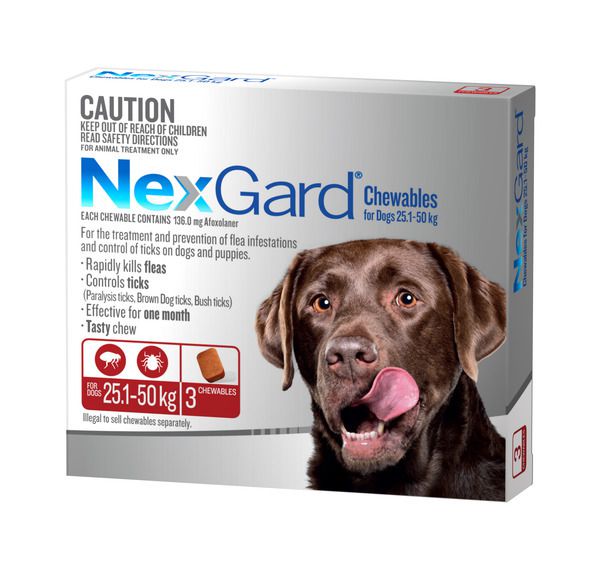 ---
Leave a comment