Parvac dog vaccination Single Dose
1 x 1ml for the vaccination against Parvovirus in dogs
Notify me when back in stock
The Parvac vaccine will only cover Parvovirus in dogs, and will not cover Hepatitis or Distemper. This vaccine comes as a single dose suitable for one dog. (The Manufacturer no longer makes the 10ml multidose, suitable for 10 dogs) The reason that we are able to sell this vaccine and why you can give it to your pet is because it is based on a "killed" virus. "killed" virus vaccines can be handled by anybody. The "live" virus vaccines are only able to be handled by a registered Veterinarian. "Live" virus vaccines include C3, C4 and C5.

VACCINATION PROGRAMS:
Puppies: It is recommended that puppies are vaccinated at the following ages
1st Vaccine 6-8 weeks
2nd Vaccine 12-14 weeks
3rd Vaccine 16-18 weeks.

Adults/juveniles over 18 weeks: If never vaccinated before, 2 doses should be given 4 weeks apart. A yearly booster should be given to all dogs to maintain adequate immunity.
N/B Dogs receiving their first course of vaccines will not be fully protected until 10 days after the final vaccine of their initial course.


Do Not use in dogs that are incubating an infectious disease; seriously debilitated by another infectious disease, parasitic infestation or malnutrition; or under treatment with immunosuppressive drugs.
Adverse Reactions As it is an inactivated vaccine, untoward systemic effects are very rare and the vaccine may be used in pregnant bitches. The adjuvant will cause a temporary local reaction at the injection site, though this is seldom visible. Careful palpation may reveal a small fibrous nodule in some dogs about one week after vaccination. This nodule will regress, becoming impalpable within two to six weeks. In a very few small, smooth coated dogs, such a nodule may be visible for a limited period.
Dosage and Administration Give a 1 mL dose by subcutaneous injection in dogs of all ages; gently massage injection site to help disperse the vaccine.

Annual booster vaccinations are recommended to maintain adequate immunity.
The Vet Shed will supply all needles and syringes at no extra cost.
As you are vaccinating yourself, you WILL NOT be given a vaccination certificate.
**plse note that vaccines are only sent on Mondays and Tuesdays to avoid any transportation over weekends. Cut off time for placing your order is 9.00am Tuesday mornings. If you order after this time your order will be held until the following Monday. If you have an urgent request to get vaccines sent after this time you will need to call customer service to discuss the logistics 1300 735 995 Orders are sent via express if you are unsure if you are in the express post network please ask us and we can assist you. We can not guarantee that orders will get to you cold if you are outside the express post network.**

All Cold items such as vaccines can only be sent to customers who are within the express post network. If you are unsure call us on 1300 735 995 and we can help you.
(PARV)
| | |
| --- | --- |
| SKU | PARV |
| Brand | Parvac |
| Shipping Weight | 0.1000kg |
| Unit Of Measure | ea |
Easy to use

By:

Sue Sim

on 5 March 2020

This was really easy and convenient to use and instructions were very clear thank you. I don't know if the stars are working but I give it 5 stars


(5)
Vaccines are great

By:

Monika Bloedorn

on 22 January 2020

These are great


(4)
Parvac

By:

Kezza

on 19 December 2019

Very happy with it. Fast shipping and was still cold. Highly recommended.


(5)
Dog vaccine

By:

Penny Mocker

on 25 October 2019

The product arrived on time. It was packed well with ice bricks that were still over 1/2 frozen. I will deal with the vet shed regularly.


(5)
Great service

By:

Ian

on 6 September 2019

eThe easiest web site to follow , make a purchase and delivered exactly when promised ,,,good job,well done the vet shed


(5)
Parvac dog vacation

By:

Victoria Jones

on 21 July 2019

Great product and easy to use


(5)
parvac

By:

Luke Armitage

on 2 June 2019

excellent thankyou


(5)
Life Saver

By:

Helen Huth

on 25 March 2019

This product is great for doing older dogs that don't leave the farm, but protects them from Parvo which is good news.


(5)
Parvac dog vaccinations

By:

Gabrielle Doherty

on 10 March 2019

Really good and so quick thank you


(5)
Single dose parvo vac

By:

Cassandra Meyers

on 20 February 2019

Great product and delivered on time!


(5)
Parvac

20 January 2019

excellent service Thank you


(5)
Parvovirus Vaccine

By:

Warren Thompson

on 29 December 2018

I recently purchased the parvovirus Vaccine it arrived really quickly and very well packed was very happy with the product and fast service would recommend the Vet Shed to everybody wanting products for their pets


(5)
Great company

By:

Tammy Huckel

on 27 December 2018

Always had great service and speedy delivery and save so much money. I shop here all the time.


(5)
parvac dog single dose

By:

Geraldine Hannon

on 13 December 2018

great price arrived fast still cold and packed well


(5)
PARVAC DOG VACCINATION

By:

david hampton

on 6 December 2018

THANKYOU WAS DELIVERED IN A COLD POLY BOX, TOOK OUT AND WAS EASY TO DO READING THE INSTRUCTIONS OF HOW TO DO IT. EXCELENT THANKYOU GUYS


(5)
Vaccination

By:

Ron

on 28 November 2018

Great and quick


(5)
Spot on service and products

By:

Gabrielle West

on 24 June 2018

Greatly appreciate the service and products you provide!


(5)
Parvo vaccination

By:

Christine

on 27 May 2018

Thanks Vet shed my pup is almost fully vaccinated, thanks for your prompt delivery. Greatly appreciated and I've told all my friends to consider ordering through your Web site.


(5)
Parvac

By:

Kirsty Fyfe

on 9 May 2018

Exactly as described, easy to follow instructions


(5)
Easy and happy

By:

Crystal

on 3 May 2018

Came quickly and is very easy to use. It came with instructions and was very well packaged. Cheap price as well! Very happy customer :)


(5)
Parvo vaccination

By:

Christine Troutman

on 2 May 2018

This was so easy to order and delivery was quick. Vaccine came but I had no idea how to administer the vaccination and there were no instructions so I ended up going on youtube and that gave me step by step instructions. Definitely ordering his next 2 vaccinations very soon. Thanks Vet Shed you made this so easy I have recommended you to a few people out here in mungindi. Cheers


(5)
Parvac

By:

Ricky

on 13 December 2017

Fast delivery and easy to do yourself


(5)
Parvac dog vaccination

By:

Jeffery Pritchard

on 15 November 2017

A good product. Have used it many times. A lot cheaper and as affective as a vet visit


(5)
Parvo vaccinne

By:

Debbie Enright

on 16 February 2017

Very happy with prompt delivery


(5)
As described

By:

Jorja Andreatta

on 2 February 2017

Got the product, it was not cold when it got to me . But it has been very hot. Will order again though because of the money saved compared to going to a vet !


(4)
Parvovirus vaccine

By:

Natalie

on 4 September 2016

Great fast service was able to track item even received email when it had arrived it was packed with care to keep product cold easy step by step instructions on how to vaccinate


(5)
Parvo vaccine

By:

Charlene

on 3 August 2016

Super fast delivery, turned up packaged securely with great instructions. Was easy to use and vaccinate my dog who is very frightened of the vet this was a great way of doing it in the comfort of our own home, my dog didn't even notice.


(5)
Parvo vacc

By:

Carol

on 23 July 2016

Very timely delivery ... Would use again!


(5)
Vaccinations

By:

Lorraine.Alexander

on 20 April 2016

It is much easier to order and receive the vaccines to give at home instead of having to go to the vet.


(5)
Parvo vac

By:

Kimberley duff

on 26 November 2015

Great fast postage! Excellent product! Great steps info! Great communication! Will be shopping again!


(5)
Fantastic Parvac Single Dose

By:

Rebecca

on 9 October 2015

We have a lot of working dogs and this has been fantastic. Able to give them the dose at home, cheaper than the vet, just great! 2 of my cousins and my Uncle are now using this product as well!


(5)
parvac shots

By:

Kylie

on 2 September 2015

awesome.


(5)
Parvac Vaccinations

By:

Leah Lawson

on 5 June 2015

Excellent product super convenient.


(5)
Parvac single dose

I recommend everyone to use. Cheaper than the vet! 5 star!!


(5)
Parvac Single Dose

By:

verity

on 20 March 2015

Great product and great service


(5)
Parvac Single Dose

By:

verity

on 20 March 2015

Great product and great service


(5)
received

By:

jono pillow

on 23 October 2014

good service with Aus post & the packaging


(5)
Parvo Vacc

By:

Ann Armstrong

on 23 October 2014

Good Product good price especially when you have more than one dog.


(5)
Parvac Vaccine

By:

Ann Armstrong

on 2 October 2014

Good price & product


(5)
Vaccination Control

By:

Michelle

on 28 September 2014

Thank you for making this product available. In a day and age where over vaccination is common place being able to have control on what and when to give your dog is very important. Thank you.


(5)
parvac

By:

Katrina Williams

on 14 September 2014

Easy dosage, no side effects and much cheaper than getting it done at the vet


(4)
Purchase of parvac

By:

Emily lyons

on 9 September 2014

Very happy how fast we received these products and they were kept cool which I was worried about. Will be purchasing on here from now on as it's affordable to myself and my partner.


(5)
Parvac single dose

By:

Maria Bryan

on 29 August 2014

I use this to keep pups safe prior getting their vet administered live virus, it has never let me down providing al lpups are done at, or just before 6 weeks of age we do not get Parvo in a town where it is rife, I recommend it's use as a safety net, some of my friends use only Parvac with good results as well


(5)
Best ever so easy to use

By:

lynette

on 5 June 2014

Great product


(5)
great vax

By:

Stacee

on 22 April 2014

No reaction or side effects however the product description says all needles and syringes provided but I received only the vaccine. Happy otherwise.


(5)
great product

6 April 2014

thankyou for marketing this great vaccine ,I can vaccinate all my working dogs in one go and afford to make sure my staffs dogs(that travel) are all vaccinated as well.! great job The Vet Shed. R Buckmaster.


(5)
Very convenient

22 February 2014

Ideal vaccination for the country/working dog or those on a tight budget. Know your dog is protected against Parvovirus, without the $$$ vet bills. The instructions on how to give the injection are a great inclusion in the packaging.


(5)
great service

30 December 2013

great service and great product thanks guys


(5)
parvac

By:

Tammy

on 15 December 2013

Great product easy to administer. shows very few side affects.


(5)
Parvo Vacc

28 September 2013

Have used this product for several years - great


(5)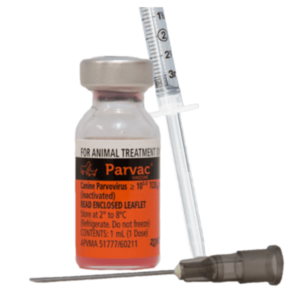 ---
Others Also Bought
---
More From This Category