Foobler is an innovative smart toy which dispenses treats with an automatic timer. Reloadable 6 chamber treat dispenser with twist top cover
It comes with a real metal alarm bell which calls pets back to play and feeding for up to nine hours, and the inner reloadable treat compartment dispense treats into outer chamber for your dog to knockout which keeps the dog interest to play with the toy. Keeps your dog busy when home alone and is also a great way to have your dog forage for their food. Helps relieve boredom - no more chewed up items or gardens being destroyed!
Treat compartment and sphere are fully hand-washable. With the special design of removable hard-shelled battery and motor drive compartment, you can also put it in dishwasher. Highly durable pet safe plastic
Dimensions 6.5"
How it works?
Twist off the feeding lid, and pour in your dog's favourite kibble (or treats). It can accept kibbles up to 12mm in diameter, all part of the daily food intake.
To set the time intervals, flip it over, remove the power pod, and select from 15, 30, 60 or 90 minutes on the switch.
The bell will ring and the Foobler will be ready to go to start dispensing food.
Why your Dog will Love the Foobler
Doggy Fun: Dogs are just like us humans who love to play and be entertained
Reducing Undesirable Behaviour: Reduce boredom and the chance of your garden furniture or garden hose being chewed or gardens dug up
Healthy treats: The Foobler lets you set the timer for when the dry dog food is released. Your Doggy will be treated to healthy treats through-out the day
Brain Development: Our 4 legged friends are just like us. The more we play, entertain and engage in activities, the more alert we stay
Maintains your dog's true nature: To hunt and forage
BFA free plastic & 100% satisfaction guaranteed
This amazing toy is a must for all doggy households, as recommended by behavioural trainers and vets. "An amazing, much appreciated gift!"
(FOOBLER)
| | |
| --- | --- |
| SKU | FOOBLER |
| Brand | Foobler |
| Shipping Weight | 0.8000kg |
Happy Toy

By:

Helen Hunter

on 11 April 2018

product does what it says, my dog is very happy with it


(5)
Foobler great for dog but not so great with sand/b

By:

Nikki Logan

on 15 February 2018

We got a Foobler for our Bernese Mountain Dog when he was younger. It was robust and breed-suitable and I experimented with different kibble but eventually just went back to the regular kibble which was big breed (larger). It only takes a few knocks to get the food portion out and so I wouldn't really call this a 'puzzle' but it is a great mind-occupier and he did spend a fair bit of time banging it around hoping to loosen some bonus bikkies out. The problem I had was sand. He regularly pushed it into the garden beds which (obviously) have sand in them and over time the sand got into all the cracks and undermined the toy's ability to rotate properly. It got into the bit you can't wash. Ultimately it stopped working due to the grit built up inside the mechanism. Suggest it's probably suited for inside dogs and patio dogs or gardens with lawn but no open sand/beds. I recently found the sad, locked up Foobler and gave it a bit of a recovery service and my dog remembered it straight away and ran to it when it 'dinged' (this is after 18 months) so I'd be open to looking at another one, especially if they have improved the design. Great idea, defo.


(4)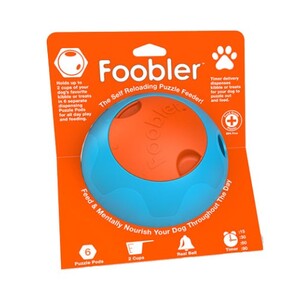 ---
Others Also Bought
---
More From This Category